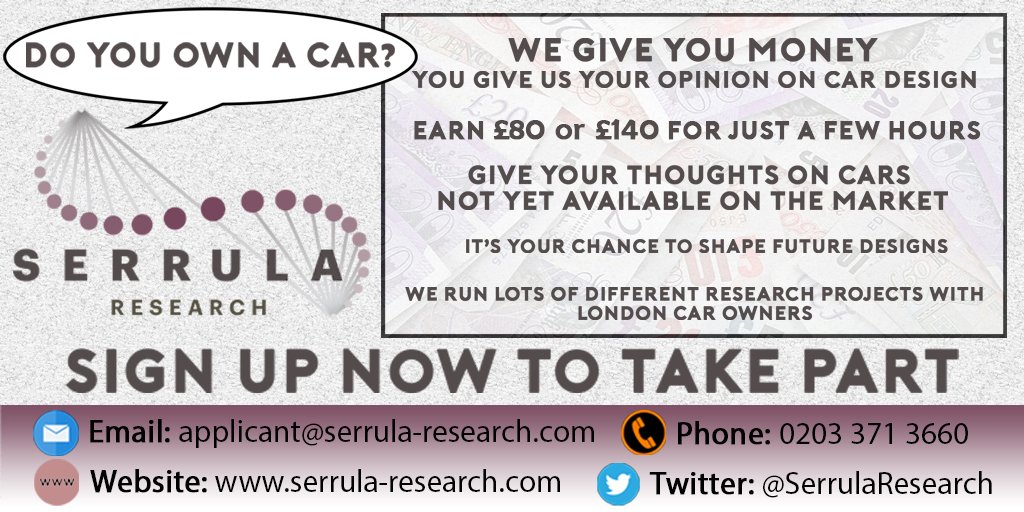 Dear Pulsar owners,
I just wanted to give you some information about a forthcoming event that we are running.
You can get paid
£80 cash
to simply give your opinion about a new cars. It's an exciting opportunity to give your feedback on the design and future production of a car not yet on the market.
Simply come down to our venue in
Wimbledon (SW London)
on either
Saturday 25th or Sunday 26th June
. The sessions are 2 hours long and we have availability throughout the morning and afternoon on both the days. You only need to take part in 1 session.
We,
Serrula Research
are an independent market research agency and have held a number of different car research events in the UK over the last few years. We always find this to be a mutually rewarding experience as it offers you the chance to give your feedback straight to a manufacturer and help shape their future offerings. Each time we get a great response from all those that take part.
We abide by the
ESOMAR Code of Conduct
and all information is treated confidential and is never passed onto third parties. Our event has no sales purpose and no attempt will be made to sell anything to you at the research venue, or as a result of your participation.
If your have a partner was involved in the decision making of the car then they can also take part and earn £80 as well.
To apply, fill in this form http://goo.gl/forms/F0bTsJ9Rw0xLKbgM2
Alternatively give us a call on 02033713660 or send us a message via email or social media. Let us know what current car you have, when it was bought and whether you bought it new or not?
We will need to run through a few additional screening questions and then we can schedule you into a timeslot of your choosing.
Thanks,
Tom Francis
Project Co-ordinator
Serrula Research Ltd
Tel: +44 (0) 20 3371 3660
Tom.Francis@Serrula-Research.com